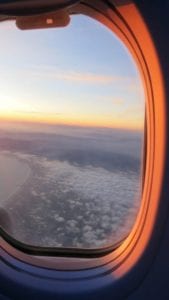 I've thought a lot about what I love so much about airports, and I think it's that airports suspend three things: expectation, time and judgment.
We are pleasantly surprised when we get through security fast, find a place to sit at a restaurant and take off on time. Because expectations are low, patience is high. This tends to create an environment where people go with the flow, shrug off minor setbacks and laugh a little easier. Also, expectations from the outside world are diminished. While in transit, coworkers, family, and friends expect little communication or results from the traveler.
The only time that is relevant in an airport is individual boarding time. Otherwise, 8:00 in the morning local time could be 5:00 in the afternoon according to the internal clock of the people seated at the bar. It doesn't matter what time it is outside and, while in the airport, it doesn't usually matter what time it is at the destination. In those airport hours, time is postponed.
Because both expectation and time are suspended within the airport walls, we are easier to approach and harder to annoy. Grabbing a quick coffee leads to conversations with people we might not otherwise talk to. A drink at the bar at an early hour is greeted with a "cheers" rather than a raised eyebrow. A delayed flight is answered with a shrug and knowing smile with fellow passengers.
The suspension of expectation, time and judgment open up endless opportunities for unique exchanges, new relationships and great stories.
#TrueAltitude